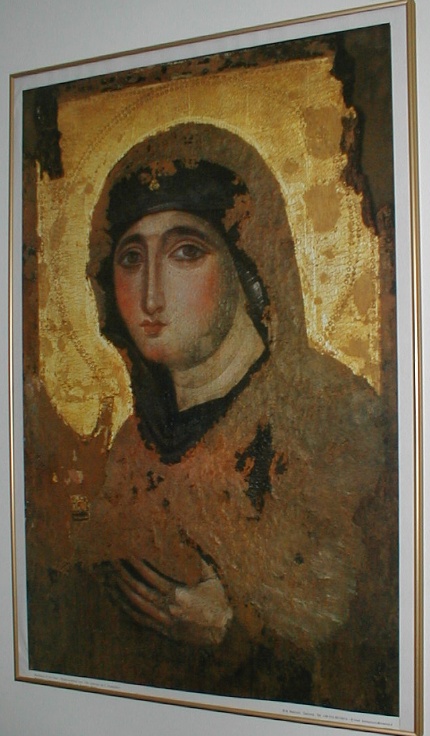 The Miraculous Image of the Madonna of San Sisto
Dominican Saints Surrounding the Crucified Christ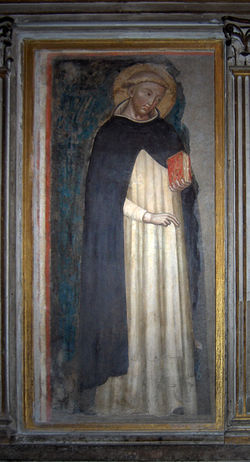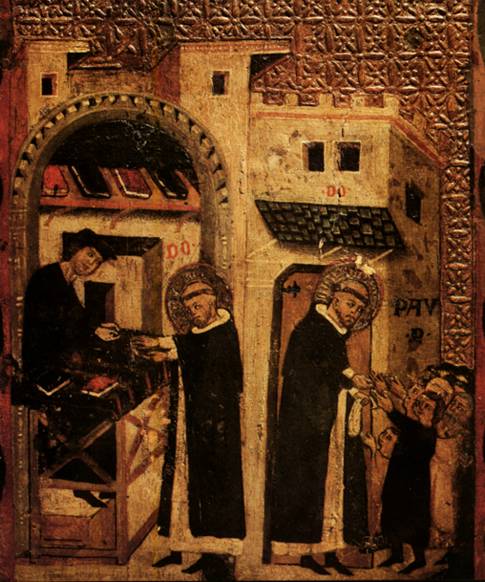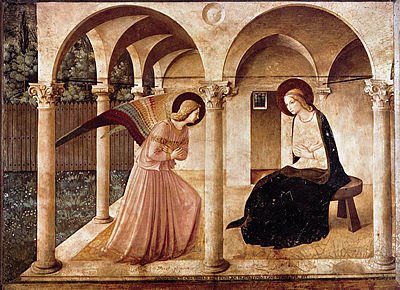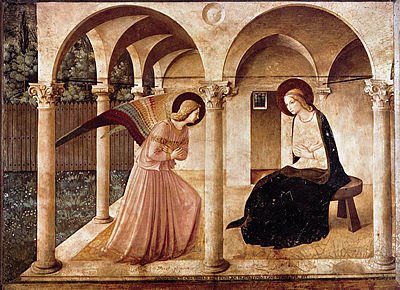 Fra Angelico demonstrates his understanding of linear perspective particularly in his Annunciation paintings. This large fresco stands at the top of the stairway leading to the cells of the monks in the Dominican Monastery Museum of San Marco Florence, Italy
[Return to Top]
A painting of Dominican saints surrounding a crucified Christ by Sister Mary of the Compassion, Union City. The life-size painting (8 by 4 feet) is currently housed at the Dominican House of Studies in Washington, D.C. [Return to Top]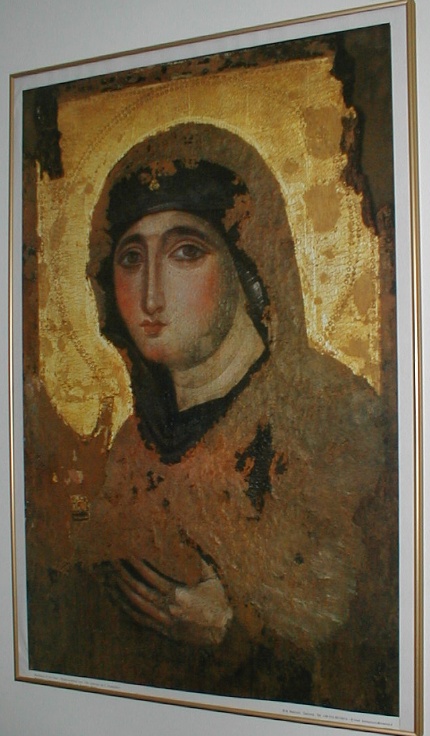 The Miraculous Image of the Madonna of San Sisto

Before the masterful frescoes of Blessed Fra Angelico graced the cloister of San Marco, the Order of Preachers (Dominicans) possessed an artistic work of great character and heritage in the miraculous image of the Madonna of San Sisto in Rome, Italy.

This icon of Our Lady was thought during the Middle Ages to have been designed by Saint Luke the Evangelist and to have been painted by angels. Legend held that a holy man from the East brought it to Rome. There it was acquired by three brothers who were exiles from Constantinople, presumably because their adherence to orthodox Christianity, ran into conflict with an outbreak of monophysitism or iconoclasm. The image was placed in the Church of Santa Agata in Turn outside the Appian Way, which, in honor of the icon, became known as alternatively, Santo Maria in Turn and Santa Maria in Tempulo. Confirming parts of this medieval legend, modern historical study has indicated that this Madonna is of Byzantine origin and was venerated at least by the end of the fifth century.

When Saint Dominic was charged by Pope Honorius III to establish a reformed community of nuns at San Sisto in Rome, one of the communities from which nuns were voluntarily drawn was the monastery at Santa Maria in Tempulo. St. Dominic lavished his attention upon the nuns of Santa Maria, preaching to them and giving them spiritual direction. It was to each of these same women in 1219 that St. Dominic brought wooden spoons which he had carried on a journey from Spain. At that same time, he received the promise of the nuns that they would enter the new community of San Sisto. However, the mere possibility of the nuns moving from their monastery into a stricter community caused their relatives and friends to protest vociferously. After further entreaties from St. Dominic, most of the nuns agreed to join the new community of San Sisto.

The nuns placed one caveat on their promise: that the miraculous image of the Madonna in Santa Maria in Tempulo should also come with them. This was no ordinary request. Legend had it that in the tenth century Pope Sergius III tried to move the painting into the John Lateran Church, but it had returned miraculously to its original home. God seemingly wanted the painting to remain in Santa Maria in Tempulo.

St. Dominic was not daunted by the challenge. On the First Sunday of Lent, February 28, 1221, Our Holy Father gave the habit and received in his hands the profession of the nuns entering San Sisto. During the following night, St. Dominic carried the miraculous image of the Madonna to its new home at San Sisto. The painting did not fly back on its own accord, thus bestowing the divine seal of approval to St. Dominic's foundation.

The miraculous Madonna remained at San Sisto until 1575, when it was transferred to San Dominico and Sisto on the Quirinal where the nuns had relocated upon the urging of Pope Saint Pius V. After the monastery became the home of the Angelicum, the image was under the care of the Dominican friars for a time. In 1931, however, the image was placed in Santa Maria del Rosario e della Febbre a Monte Mario where the nuns had moved into a new monastery. The image was restored by Dr. Carlo Bertelli in the 1950's.[Return to Top]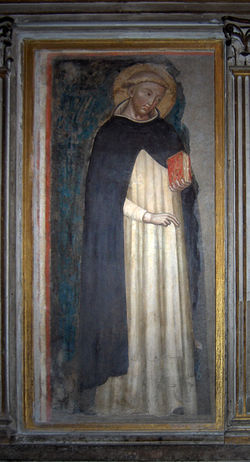 Oldest image of Saint Dominic by an unknown 14th century artist - located in the Priory of the Basilica of San Domenico in Bologna, Italy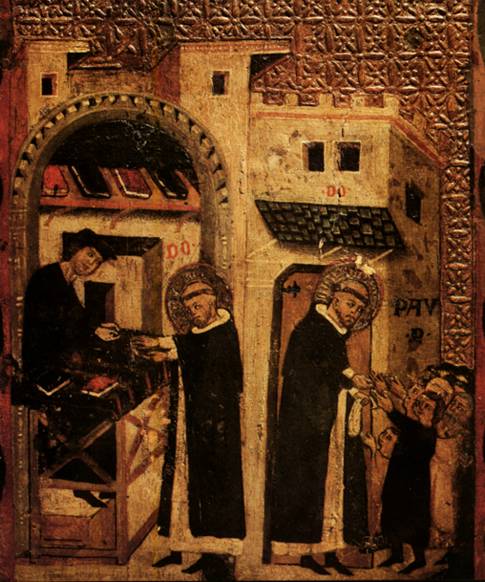 Saint Dominic Sells His Books
"And when Saint Dominic saw that great famine was there, he sold his books, and all his substance, and gave the price of them to poor people."
St Dominic Meditates by Fra Angelico - In a particularly haunting depiction of the mocking of Christ, the blindfolded Savior is beset by a swarm of disembodied hands, while in the foreground sit the Blessed Mother, lost in private meditation, and St. Dominic, contemplating an open book in his lap. For Fra Angelico the religious life was a life lived in the presence of Christ and emotionally engaged in the ongoing drama of redemption.]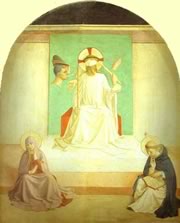 [Return to Top]
Fra Giovanni da Fiesole (Fra Angelico), a Dominican friar, was perhaps the most important painter of Renaissance Florence. He was born Guido di Pietro in Mugello, Italy, and began the significant part of his career at the Dominican monastery at Fiesole.
While his early panels of triptych altarpieces are indebted to traditional Sienese practice, he was already highly aware of the innovations of Florentine art. His "Annunciation" of about 1432-not to be confused with the later fresco-shows the development of an individual style, mixing an assertively Florentine sense of perspective with graceful proportion and restraint.
Living largely in a state of withdrawal from the world, Angelico presided over a busy workshop in the Dominican Observant house at Fiesole.
His worldly fame and reputation meanwhile grew rapidly, partly because-in contrast perhaps to his devotional modesty-his works were strenuously adventurous and advanced, with daring degrees of compositional freedom. In the late 1430's, after the shop had moved to the S. Marco monastery in Florence, Angelico made great strides in the use of color, form, and perspective. Instead of showing saints, angels, and a Madonna on separate panels, the central panel of a 1438 altarpiece-commissioned by Cosimo del Medici-surrounds the Madonna with angels and saints, an approach that entered the vocabulary of Renaissance composition as "sacra conversazione". In works of the early 1440's, a realistic and exciting sense of panoramic space pervades Angelico's pictures, as do delicate and subtle uses of color to express distance and variation in light. His best known and perhaps most thoroughly timeless work is from the series of frescoes he painted in S. Marco monastery, mainly in the early 1440's. Some of those frescoes-the "Annunciation", for example-were painted in the public spaces, as aids to group devotion; others were painted in private cells.
In 1447, having been called to Rome, Angelico and his workshop assistants made a richer and even more ambitious set of frescoes for walls and ceilings in the private chapel of Pope Nicholas V. Having served as Prior of S. Domenico in Fiesole, Angelico returned to Rome, where he died. Legend tells us that Fra Angelico never took up his brush to paint without first making a prayer. To behold the luminosity of his work convinces us this must be true and further, that the act of painting itself was prayer. He hoped in his works to evoke feelings of devotion to God in all who saw them [Return to Top]
CREATIVE PREACHING THROUGH ART:

THE DOMINICAN CONTRIBUTION

Eleanor Carlo, T.O.P

---

These addresses were presented at an Annual Dominican Family Awareness Day held at Providence College, Providence, Rhode Island, in March, 1978. They are offered to all the members of the Dominican Family through the cooperation of the Dominican Laity in the Provinces of St. Joseph and St. Albert the Great, U.S.A.
Dominicana Publications, 1979.

---

This paper offers a brief summary of a slide-lecture Workshop prepared for Dominican Family Awareness Day. Its thrust is the unique ministry of gifted Dominicans who responded to their vocation by creatively, effectively and compellingly enhancing and`supplementing the preaching of the Word of God -- plus a challenge for us today.

It is a well-known fact that, among its members, the Order of Preachers has contributed some distinguished artists and architects. That it has also been responsible for recognizing and commissioning some of the greatest talents of all time is another fact with which art historians and art lovers are well-acquainted.

Preaching and religious art are related
in that each is concerned with communicating truth and beauty.

Preaching and religious art are related in that each is concerned with communicating truth and beauty. Since Dominicans are called to preach the truth and beauty of the Catholic faith, not only by word and example, but in every possible way, it follows that if one happens to be an artist in the Dominican Family, he will endeavor to lead others to God through his art. As St. Catherine of Siena relates in her "Dialogues" there are many roads and ways which God uses through His Love to lead people to Him. Art is the way of beauty, a road which leads directly to Him, if we are so blessed as to be led along this road.

Because their inspiration comes from God, the preacher and the artist communicate with a sense of mission. Mission implies the giving of self -- and the motive of mission is Love. Artists are ardent preachers who have been inspired by God and have been given gifts for interpreting the Gospel and spiritual reality. Fra

Angelico and Fra Bartolomeo are among those who point out things we often fail to see without their help. A more recent artist-preacher who has made visible for us the invisible (invisible that is except to Lucy, Francesco and Jacinta) is the late sculptor, Father Thomas McGlynn, O.P. How grateful we are to him to have his representation of Lucy's description of her vision of Our Lady of Fatima -- made visible to us through his Labor of Love!

Art is the way of beauty,
a road which leads directly to Him

And what of the well-loved painting of Fra Angelico in which St. Dominic appears meditating on the Passion in "The Buffeting of Christ"? Doesn't that penetrate far more deeply into our hearts and minds than descriptive words, happy as we are to have them? The greatest masterpieces are in reality sermons on canvas or stone. They are created to dispose us to prayer. They have the capacity to arouse us from an attitude of indifference to deepest compunction or to a sense of the sublime. We come away from them ennobled and enriched.

Dominican art is marked by the strong influence of St. Dominic's spirituality, the Order's theological emphasis of preaching truth and fighting heresy, as well as the contributions of such distinguished authorities as St. Thomas Aquinas, St. Antoninus, and Savonarola. Through its special devotions to the Body of Christ, to our Lady, St. Catherine of Siena, and other illustrious saints, it has enriched the iconography of the world of art. Reflected in formal beauty and style, purity of expression and jewel-like color are the following qualities of art for St. Thomas: integrity, proportion, harmony, and splendor. The universally admired Dominican contributions to Christian artistic expression are our legacy, our heritage, --ours for the looking! Ours for the challenge of today's call and response.

Since this workshop is intended to be participatory, you will want to know just how you are expected to participate. Your share is to do something very much in keeping with the Dominican call and its response, i.e., to contemplate the slides which are to be projected on the screen, and to share the fruits of your contemplation with others by contributing your insights and appreciations. You will be shown works created by Dominican artists or commissioned under the auspices of Dominican patronage, influence, and inspiration -- Duccio, Albertinelli, Masaccio, Botticelli, Lippi, Raphael, Fra Angelico, Leonardo da Vinci, Michelangelo, to name a few. They are works of great beauty in style, in message, in spiritual depth. They have a special quality about them, not only because they were created by experts in their field, but because they were created in many cases by men who had trodden the mystical path themselves. Even though their voices are long still, they continue to preach with an artist's passion, and are able to nourish us today.

You are asked to relax and to enjoy them
Serenely, because you are called to contemplation,

In order to make the artist-preacher's art a meaningful experience, it is necessary to develop a contemplative approach. In viewing these slides, you are asked to relax and to enjoy them serenely, because you are called to contemplation. "Contemplation," Evelyn Underhill tells us in her book on Practical Mysticism," ...is the necessary activity for all artists. The artist is a contemplative who has learned to express himself, and who tells his love in color, line, and form. He tries to express something of the revelation he has received through his experience and understanding. He wants to communicate to you a glimpse of what he, himself, has grasped."

Just how do artists contribute to our understanding of spirituality? Is it really possible to depict what eye hath not seen? The religious artist agonizes over his effort to communicate to us his life of faith. How successful he is is in large measure in direct proportion to our receptivity to what he has produced, and to the extent that we allow God to speak to us through the medium of His created works.

After contemplation, through love,
we are called to action.

St. Thomas Aquinas's belief in the importance of the image, that there is no thinking without the use of images or symbols, should continue to have great significance for the power, prestige, and practice of art within the Dominican Order today. This includes contemporary art forms such as graphics, photography, and film. The incredible possibilities of reaching untold "congregations" of captive television audiences for Christian Communication by preachers and artists working together in the spirit and zeal of St. Dominic but in today's idiom and imagery holds mind-boggling possibilities of making God's world televisible. "Images," says St. Thomas, "necessarily accompany our knowledge in this present life, however spiritual the knowledge may be, for even God is known by us through the images of His effects."